Minneapolis Restaurant owner challenges infamous weather with retractable restaurant roof.
Recently Libart has been covered by CBS (see video below) for its unique open air restaurant retractable roof system on Union Restaurant in Minneapolis. The first among the city's restaurants the Union now features a dining experience unlike no other, Union customers are able to enjoy the freedom of outdoor patio dining in the summer, and when the weather turns, protection of an sheltered solarium . The Libart business model is to achieve a hybrid of indoor and outdoor architectural solutions, thus a retractable glass roof cover for Union restaurant patio.
Even Travel and Leisure magazine rated it as a "place to watch" in their Hottest Travel Destinations of 2013!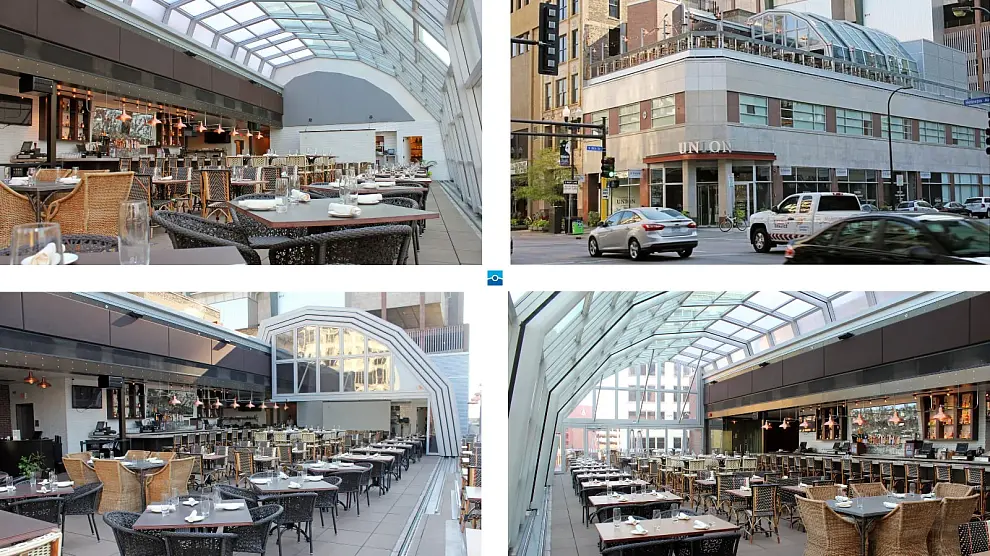 Sales and patio cover construction of this one-of-a-kind unit was provided by our partners at Libart USA under the creative design provided by Shea Design in Minneapolis. Owner Tam Kalebi spoke to CBS about his new system boasting about our "indoor-outdoor experience" which only our highly trained engineers were able to provide him. "It opens up and closes up in a couple of minutes" the gleeful Kalebi told reporters "sort of like an accordion". Libart not only focuses on commercial applications such as this restaurant's metal patio cover but also has solutions for hospitality, residential and Industrial applications.
This Retractable glass roof Restaurant project was chosen for the list of best Seven Restaurants with retractable roofs from Architectural Digest
Rick Nelson of Minneapolis' own Star Tribune captured his experience in a review following his own experiences at Union Rooftop.
"The rooftop is a world apart, a soaring, energetic and crisply elegant space
that's so transporting that the IDS Tower, our reassuring compass, is the only indicator that you've remained in Minneapolis. It's a thriller at lunch, when the eye sees only sky and skyscrapers (even on a cloudy day, it's the architectural equivalent of a Seasonal Affective Disorder light therapy lamp). By night, it's urbanity personified, and an instant point of pride for the city."
Whether you're a tourist or a native, whether you're in the area in the color-changing fall, flowering spring, or buried in one of those Minnesotan winters, the Union Retractable Rooftop truly is a one-of-a-kind dining experience with a spectacular view of a one-of-a-kind city.

It's no easy feat to create a year-round indoor/outdoor patio dining experience on the roof of a historical building in the heart of this incredible city. The 12-paneled, free-standing, retractable roof houses the bar and plenty of dining space for patrons. For added comfort, it's complete with heaters for those really cold Minneapolis days. The retractable roof is open whenever feasible, and closes at night when the temperature starts to cool. At the touch of a button, it takes under five minutes to open or close the motorized structure, and accordian-style NanaWall doors seal off the inside dining room from the elements. When it's open, they fold around the side of the building and out of the way.


Whether you're a tourist or a native, whether you're in the area in the color-changing fall, flowering spring, or buried in one of those Minnesotan winters, the Union Retractable Rooftop truly is a one-of-a-kind dining experience with a spectacular view of a one-of-a-kind city.]