ClearSky Retractable Skylights
Retractable Skylights open up for maximum fresh air, circulation, and unmatched views. Our retractable skylights are unequaled for class, style quality and performance anywhere in the World. It provides a unique customer experience providing more positive and livelier environment that connects with nature. Our skylights bring spaces to life. They open up to let in beautiful, warm weather, and close up when it's cold or rainy, offering users year-round enjoyment in unique, naturally lit, dramatically beautiful spaces.

Libart develops custom operable skylights that are as elegant in operation as they are in design: they open silently and smoothly, and close tight to keep out drafts and moisture. Our designs are unique and fully customizable, adding sophistication and elegance to any space.

Why Retractable Skylights?

• Healthier environment
• Year-round Enjoyment
• Natural Lighting
• Cost savings on hear and AC
• Energy efficiency

Why Libart?

• 25 + years of experience
• Global building and design codes
• Wide Range
• Innovative approach
• Quality and Reliability




Base Models
The type of the ClearSky retractable skylights varieties depending on the span of the roof opening. The system can start with 2 segmented profiles (A7B) and go up to 8 segmented profiles (V7B).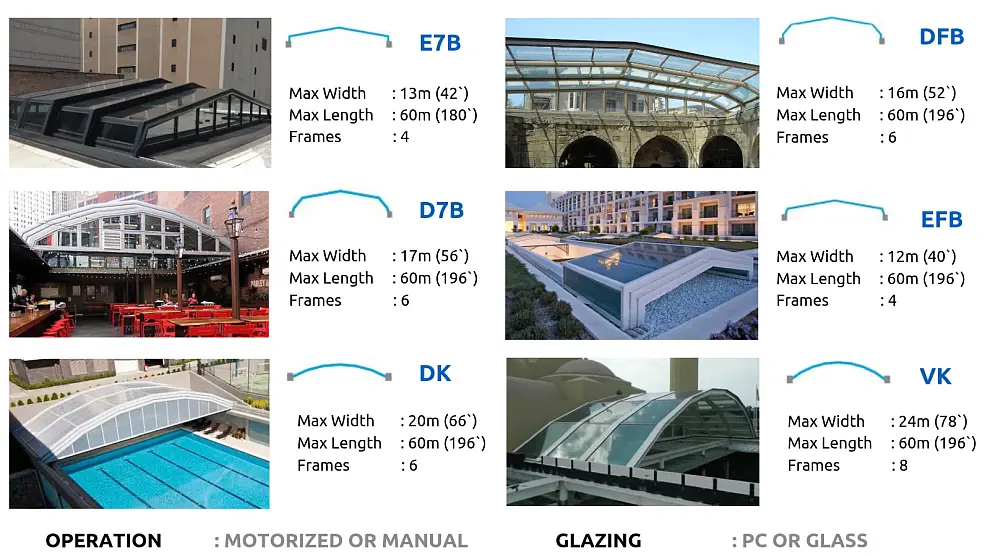 For more technical details you can check out the catalog: Retractable Clearsky Catalog
Get in touch: Team Libart or simply write us email at [email protected]